Pacific Region Approach to Collaborative Management: Aboriginal Engagement in Fisheries Management
Presented October 30, 2014
Purpose
Review recent work by FNFC and other collaborative initiatives regarding collaborative management.
Develop a common understanding of objectives, key elements, challenges and opportunities for First Nations involvement in DFO's processes for fisheries management and planning.
Seek your advice on an affordable and effective engagement model for DFO-Pacific Region.
Strategic Context
Partially in response to recommendations from the Cohen Commission final report, the Department is reviewing its approach and developing guidance with respect to Aboriginal involvement in fisheries management to ensure consistent with it's policy and program direction and establish and confirm the roles of both DFO and First Nations
First Nations have also recognized the need and called for improved First Nations engagement in fisheries management First Nations participants in DFO advisory processes have not considered themselves as First Nations representatives, as such may not bring First Nations interests forward or report back on IHPC issues to communities (Our Place at the Table)

Some First Nations have indicated that they do not believe that Integrated Harvest Planning Committees are appropriate processes for discussing Section 35 rights

Most consultation occurs at the bilateral level, is resource intensive for all parties and not well suited for issues that impact for multiple interests
First Nations' are seeking a greater role in 'decision-making' and 'joint management' of all aspects of fisheries management. However, there is a variety of interpretations on what that might involve.
There is a need to establish and confirm the roles of both DFO and aboriginal groups in fisheries management.
As the Department seeks to increase efficiencies, we need to be more strategic about how we dedicate staff time and resources to consultation and fisheries management.
DFO's Aboriginal programs (i.e. AFS, AAROM, and PICFI) have contributed to building capacity for First Nations to be involved in fisheries management.

Both AFS and AAROM support First Nations involvement in fisheries management, but are fully allocated
PICFI is sun-setting March 31, 2016 and has been a significant source of funding to support collaborative fisheries management processes
Key Concepts
There is a tiered approach to engagement: First Nations, (Tier 1) and between First Nations and government (DFO)(Tier 2) and between First Nations, government and other interests Tier 3).
It is recognized that a strong Tier 1 is a foundation for and critical to overall success.
Robust communication processes are fundamental
First Nations 'mandated representation' or a 'mandated organization' could provide the ability to and accountability to advocate on behalf of a First Nation; . a formal mechanism to link with the authority/rights held at the First Nations' level; and may strengthen Tier 1 & 2 processes, it is not essential for consolidating common perspectives.
The Tier 1 process is complex – >40 aggregates, a province wide organization, 3 political organizations, and over 198 First Nations Bands.
Need to clearly described roles and responsibilities at different scales (Local First Nation // local aggregate // watershed or sub-regional // province-wide aggregate):
Different types of discussions and decisions are appropriate: more specific fisheries and management functions are held at more local scales while broader and common policy issues and discussions are held at watershed or provincial scales.
Many structures are already in place and effectively engaging in fisheries management and planning processes
Management Activities and Scales proposed by the FNFC
| Local | Watershed/Aggregate | Provincial  |
| --- | --- | --- |
| Communication & Information Sharing | Communication & Information Sharing | Communication & Information Sharing |
| Accountability & Authority | | |
| | Policy & Planning | Policy & Planning |
| Stock Assessment & Monitoring | Stock Assessment & Monitoring | |
| Access and Allocation | Access and Allocation | |
| Habitat Conservation & Stewardship | Habitat Conservation & Stewardship | |
| | Science & Research | Science & Research |
| Economic-Social Benefits | | |
| Monitoring, Compliance & Enforcement | Monitoring, Compliance & Enforcement | |
Opportunities for First Nations Participation in Fisheries Management
Regional

First Nations Salmon Coordinating Committee: develop mandated Tier 1 and 2 process (focus: salmon IFMP and salmon FSC policy)
Pacific Salmon Commission First Nations Caucus (focus: First Nations representation on Pacific Salmon Commission)

Fraser River only

"Fraser Forum" (focus: non-mandated input into salmon IFMP)
Fraser Watershed Technical Forum (focus: joint technical process for salmon)
"Roadmap" (focus: develop a mandated process for participating in DFO Fraser salmon management

Coastal First Nations (focus: shellfish IFMP; marine planning)
Southern BC Chinook Strategic Planning Initiative
Canadian Science Advisory Secretariat (CSAS)
Area/AAROM-level initiatives, such as: LLFA, IMAWG, WCVI/NTC, Haida, Skeena, etc.)
Wild Salmon Policy pilots (focus: implement Strategy 4)
Marine Finfish Aquaculture Management Advisory Committee (AMAC)
North Coast Post Season Review / Skeena Technical Committee
Various area/local management groups/harvest round tables (Fraser Salmon Table; Barkley Sound ; Clayoquot ;
Recent Collaborative Developments
First Nations Salmon Coordinating Committee – FNSCC (2012)
Tier 1 & 2 - coordinating body with 13 delegates from FNFC regions to:

identify province-wide First Nations issues/priorities;
Share/exchange information to inform decision-making & recommendations
Provide a consolidated (Tier 1) technical advice for IFMPs
Participate in broader policy discussions

Developed/utilized Tier 1 TOR and draft Tier 2 TOR Improved 'mandated representation' may be required for effective Tier 3 processes.
Essential Functions for Effectiveness & Affordability
Communications:
All First Nations and aggregates have roles and responsibilities for info sharing/exchange.
At aggregate scale can include: web site; list serve; events (AGMs/workshops/ etc) Newsletters; scheduled calls/processes; reports;
Communication Systems:

Enable coordinated distribution of information and consolidated feedback
Promotes understanding of interests, technical issues, common positions/concerns
Supports consultation processes
Enables development of acceptable advice on common issues at a broad scale.
Fisheries Management Priority Activities
Providing advice on IFMPs and coordinating development of First Nations' community scale harvest plans
Advising on development of 'sharing plans' in times of low abundance
Data management: storage system management / data integrity for format and accuracy and sharing/access to data
Accurate Catch Monitoring and Reporting
Stock assessment ; science and research
Fisheries protection and salmon enhancement
Technical work and support – collect data at local level; analysis, interpretation and development of recommendations at aggregate level.
Oceans and marine planning
Consultation and engagement with non-First Nations resource users
Policy issues:
sharing/distributing of information, interpret and analyse to develop understanding and identify common concerns/responses
Capacity Requirements for Effective Tier 1 (as identified by FNFC):
Personnel with: TEK knowledge ; legal knowledge ; planning ; fisheries science & management ; IT ; Information management;
Organizational competencies: administrative ; HR ; leadership ; facilitation ; decision-making ; financial
Emerging Model
Information and Engagement Flow chart with the 14 First Nation Regions outlined by First Nation Fisheries Council: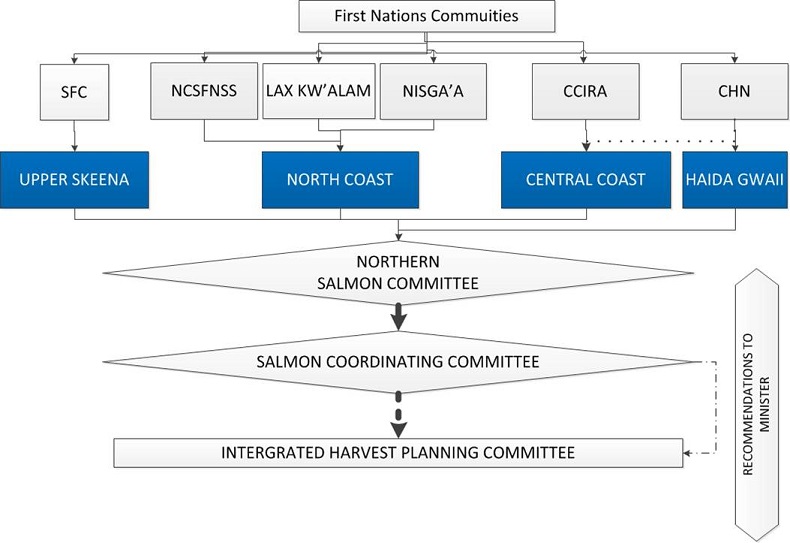 Ideas to consider for improved affordability:
Examine integrated communications functions
Examine aggregates and align AAROM support with FNFC 14 regions
Efficiencies in technical support
Other suggestions ???
Questions/Issues for discussion:
Within existing resource levels:

what, if any, changes to do you recommend to improve the efficiency of DFO's fisheries management and planning processes?
What, if any, changes do you recommend for improving support to First Nations to participate in DFO's fisheries management and planning processes?

What...

suggestions would you recommend for improving the efficiency and effectiveness of current communication functions (either First Nations or DFO)?
tools and approaches do you currently use for communication and information sharing that you find effective?

What do you think is necessary to ensure an efficient and effective Tier 1 & Tier 2 process for engagement in DFO's fisheries management and planning processes?
Based on the proposed model, what scales of engagement do you feel are essential for First Nations participation in DFO's fisheries engagement and planning processes?
How could DFO improve it's sharing of technical and scientific information to you?
Within existing resources, how could you improve your engagement in technical analysis and scientific research?
Date modified: