BC Sport Fishing Guide
Want fishing updates by phone?
Call our 24-hour phone line to get red tide and sanitary closure updates, fishery openings and closures, plus other info for your area: 1-866-431-FISH or 604-666-2828.
Subscribe to fishery notices
Set up your account and subscribe to our Fishery Notice System to get updates to your email inbox.
Choose your fishing location
Tidal Water Fishing Areas
Freshwater Fishing Areas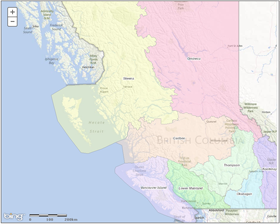 Pick up your copy of the guide!
The BC Tidal Waters Sport Fishing Guide and Freshwater Salmon Supplement are printed bi-annually and are available at your local DFO office, your local tackle shop, or by contacting us at pacdfocommunication@pac.dfo-mpo.gc.ca .
Want to print your own? Download a PDF copy:
In-season fishing management decisions are not in the pdf version of the guide but can be found on this website by following the maps above.
Date Modified:

2013-03-26