Before you go fishing: What you need to know
Start with these five questions:
Is the gear I want to use legal and can I use it the way I want to in order to catch fish?
You must possess a valid fishing licence
Licences are purchased annually and are good from April 1 to March 30.
Fishing in tidal waters for salmon?
Fishing in tidal waters for finfish or shellfish?
Fishing in freshwater for salmon or other species?
Where are you going?
Discover area-specific regulations that affect your fishing spot by consulting our maps of:
Tidal Waters Fishing Areas
Freshwater Fishing Areas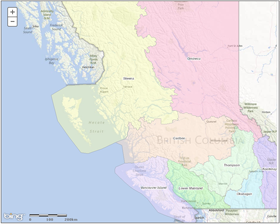 Clicking on the maps will take you to the area pages with specific regulation information including no-fishing zones, salmon limits and openings, and other information.
What are the fishing regulations?
Salmon fishing
Finfish other than salmon
Shellfish harvesting
How do I fish responsibly?
Familiarize yourself with responsible fishing and boating practices:
Each time, before you go...
Find out up-to-date changes in limits, openings and closures by
Date Modified:

2015-03-18